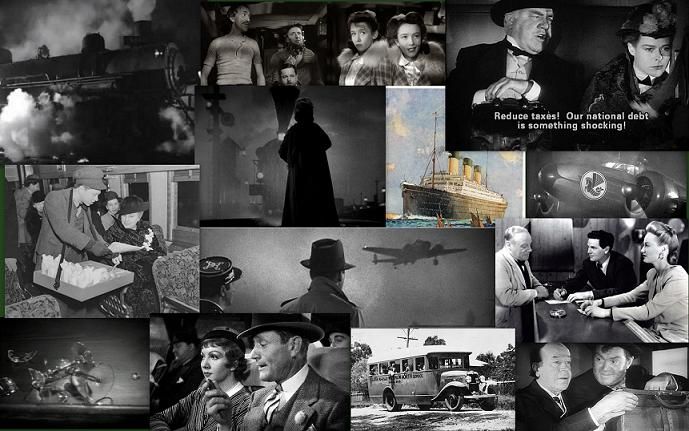 1.) Never sit opposite ladies on the train who write their names on steamed up glass between you. There's a tunnel coming and you won't be able to read it anyway.
2.) That person tickling the ivories in the lounge on-board your steamer from the Far East might not be Russian nobility after all. Test their musical knowledge out by asking for a few rounds of "Barrel House Betty."
3.) If a mysterious but very chic single woman emerges from her state room and sweeps into the dining hall wearing a gown with a sequined cloak with a tag attached, try to avoid reading the instructions on the tag. That would be the kindest thing.
4.) If, during a journey across a parched plain, you are trapped in a stagecoach seated next to a pompous old windbag of a banker and an elfin alcohol salesman, throw the banker out of the coach to distract those Indians chasing you. He won't be missed, but the little guy and his booze might be a godsend, under the circumstances.
5.) It would be wise to cultivate a friendship with that squirt with the eager manner selling vittles on the train. He might be an important inventor someday.
6.) When hopping a ride on a well-appointed circus car with Bones, The Human Skeleton, Lorelei The Bearded lady and the Siamese Twins, try not to make much noise. Believe me, you don't want to wake up that damn crankypants "little person."
7.) Try to ignore that beautiful woman quietly weeping while sitting next to a smug-looking Victor Laszlo on your long flight from Casablanca to Miami. And for heaven's sake, quit humming, "As Time Goes By" under your breath.
8.) Wisecracking would-be wolves do not make good seat mates on long bus drives, especially when they introduce themselves as "'Fun-on-the-side' Shapeley"..."with accent on the fun, believe you me."
9.) Ask yourself--how likely is it that the elegant but sad-looking lady swaddled in fur and a veil of mystery would be employed by the Trans-Siberian Railway to inspect the tracks for cracks just as your train starts to pick up steam?
10.) If someone in the ship's bar orders you some concoction called "The Paradise Cocktail" you better get your affairs in order--pronto.
11.) If that sad but friendly little gnome on a fog-bound Atlantic voyage named "Scrubby" seems to be johnny-on-the-spot as a bartender/purser/cabin boy/cruise director/dispenser of plain truths, it's too late to get your affairs in order.