5 Against the House
(1955), one of director
Phil Karlson
's small, noirish gems, is being broadcast on TCM on Wed. Jan. 9th at 4am (ET) along with several other heist flicks.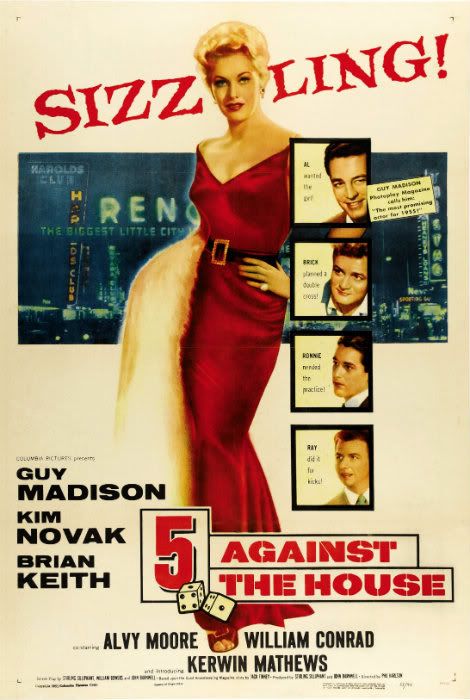 Based on a story by the gifted writer
Jack Finney
(
The Body Snatchers, Time and Again
), the film was adapted by
Stirling Sillipant, John Barnwell
and the legendary
Bill Bowers
(who was probably responsible for some of the sharply amusing remarks that pop up). The story concerns four young men who are attending college and getting restless. They are a bit old for college and understandably antsy after their experiences in the Korean War in various branches of the service. A weekend road trip to the then relatively small city of Reno to gamble and blow off steam turns into something else.
The young men on this road trip are
Guy Madison
, a decade after
Since You Went Away
and still the handsome lad with an air of a lucky amateur pushed into the leading role in his high school play because the costume fit; the brooding and fascinating
Brian Keith
; the bright, wealthy
Kerwin Mathews
whose character seems devious yet likable and fatally naive, convinced of his own invincibility; and the companionable
Alvy Moore
, whose name may not ring a bell, but believe me, if you know the fifties on film, Alvy's buzz cut and his wiseguy mannerisms are all too familiar.
William Conrad
plays a casino employee with his customary dash of saltiness and resignation (See
Cry, Danger
later this month on TCM for another fine turn by Conrad).
The sharp eye for detail by
Karlson
(with certain scenes reminding me of the best moments in
Kansas City Confidential
) and the black and white cinematography of
Lester White
give this film an interesting look. It is not a perfect film, but it is quite memorable for the tightening pace as it draws to a close, engaging a viewer--even if we know that most heist films are about audacious endeavors and human frailty, not success.
Some reasons to watch:
Kim Novak
, plays a singer with a husky vibrato and oozes screen presence. This film was made just after Pushover (1954), her great intro as a dangerous gal to love opposite Fred MacMurray as a troubled cop, and before her strong work in Middle of the Night, Bell, Book and Candle, Vertigo, etc. I like her world weariness in this role tossing off comments like "I've been dating college boys all my life" and it is fascinating to see what was a conscious studio effort to build her up as an iconic figure, beginning with her first appearance in silhouette.
Brian Keith
, as a quietly troubled man whose response to a different environment and pressures brings out his darker nature in unexpected ways. Keith, who spent quite a few years appearing in interesting B movies before his breakthrough role in
The Parent Trap
confined him to family friendly fare, was a much better actor than many films and television shows deserved. He should have had a much bigger film career if talent was the only measure and he dominates the screen effortlessly in every scene.
The technical audacity displayed by Karlson in his depiction of the setup of the heist concocted by the quartet at a casino, encompassing security, a garage mechanism, and the front and back of the house activities probably influenced every film from Milestone's
Ocean's Eleven
to Scorsese's
Casino
and beyond. Much of the film is simply a leadup to this conclusion, but the shifting nature of fate, the enormous pressure on men to succeed, the nature of friendship are all tangled up with the pursuit of loot as well.