Thanks for the Julie thread John ... Love all the pictures ... Wonderful ...
"Thoroughly Modern Millie" is a fave. It's Julie Andrews in the roaring twenties caught between trying to be 'a modern' and trying to get married. The film is a zany romantic spoof of the flapper days and is more of a comedy than a musical, but still has some good songs and staged routines. Won an Oscar for its original musical score by Elmer Bernstein and I must agree with that. The incidental musical accompaniment is indeed outstanding ...
Plenty of fun and rousing original show songs and some recollected tunes from the 1920s as well. A good cast for a fun movie. Julie Andrews is fabulous ... She occasionally interupts the follies and comedically faces the audience with silent title cards expressing her thoughts. And
finally
costumes that look the times. OMG her hat fit right ... Also with Carol Channing, James Fox, Beatrice Lillie, John Gavin and Mary Tyler Moore ... And produced by Ross Hunter ...
I enjoyed it (especially the comedy) most of the way through. I found myself laughing much of the time. It's way overlong though. You'll need a two hour eighteen minute block of time to sit through it. I have the VHS so I usually watch it in halves because it has an intermission included. The movie premiered as a 'road show' Easter Sunday 1967. Miss Andrews protested in Robert Windeler's book "A Life On Stage And Screen" how hard she tried to get Ross Hunter to cut out some musical scenes and shorten the film, but MCA/Universal head Lew Wasserman saw a chance to cash in on the current popularity of road shows (at a higher ticket rate), and they listened to none of her suggestions. "They blew it too far out of proportion from it's original conception." Julie said ...
Still fun for me. Cute costumes, some funny comedy and lotsa dialect interjected from the twenties ... Beatrice Lilllie, who can't sleep until she sprays the bedroom air with (something ?) and Carol Channing as Muzzy, both have good performances. And I don't really think I've ever seen Julie Andrews have more fun and look prettier ...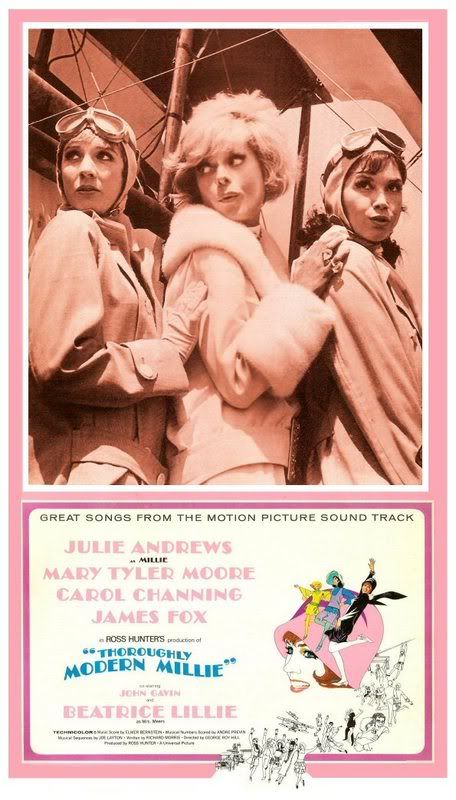 Loved the elevator ordeal ... It doesn't function unless it's occupant tap dances in it ...