I don't write reviews; this is more of a scattershot of thoughts, accompanied by scattered screenshots (say that three times fast?) I couldn't find a thread already existing for this movie, so I thought I'd start one myself.
The Reluctant Saint
... one of my favorite films and my biggest flop."
~ Edward Dmytryk.
Edward Dmytryk was both the producer and director of this unusual and very rewarding film. In an affectionate and reverently offbeat manner, it tells the story of the most awkward, slow-witted and unkempt saint you'll probably ever see onscreen. Comedy, drama, and religion are all elements in this hagiography, told with a deep sympathy and understanding for the human condition. The placard at the beginning of the film reads: "the story you are about to see is true in the essential details"; from what I've read about St. Joseph, or Giuseppe as he is called in the film, I would say this statement is justified.
Joseph of Cupertino lived in 17th century Italy, and is most famously known as "the flying friar", due to the fact that he frequently levitated while in religious ecstasy. Of course his levitation is depicted in the film (it provides the impetus that drives the story to its climax) but it is not the principal story focus - Joseph is.
Raised in poverty and considered something of a village idiot (he was nicknamed Bocca Aperta, "the gaper") Joseph was initially only accepted as a lay brother by the Franciscans, but became a novitiate in 1625, and, incredibly, was ordained to the priesthood in 1628. All these incidents of his life are depicted here, with some condensing of time and detail, and a pervading sense of down-to-earth (no irony intended) authenticity. In fact, while watching
The Reluctant Saint
, it's easy to forget that it is a movie - the time evoked, the places, and the people seem so real.
The assorted cast of Hollywood/International and Italian actors vanish into their characters - this is the first time I ever saw Maximilian Schell; seeing him in any other role makes me all the more impressed by his acting here.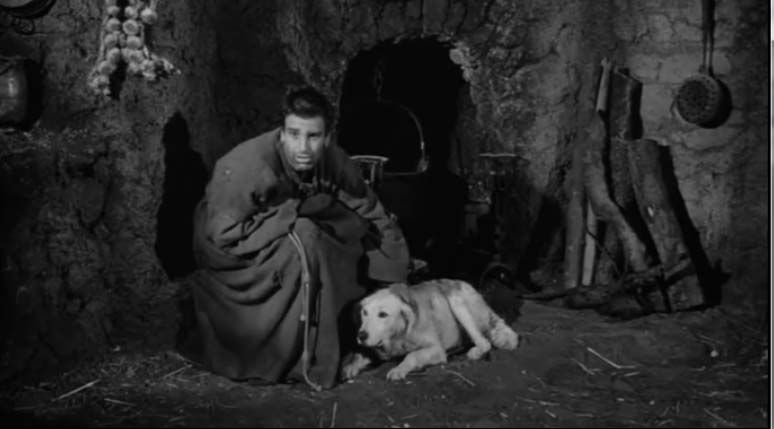 Schell as Giuseppe always seems to look as though he slept in a stable, walks with an awkward shuffle, and is painfully slow of speech - his tendency to stare blankly into space is likely to annoy anyone trying to converse with him. Today, Giuseppe might be diagnosed as suffering from some form of intellectual developmental disorder, but back in his day he was just termed a simpleton. Schell unflinchingly enacts this side of Giuseppe, while at the same time making us love Giuseppe for his joyful humility, honesty, kindness, and ability to see and return God's love in the lowliest places.
Akim Tamiroff (in a nice change of pace from his frequent roles as disgusting villains) plays the Bishop who first comes to recognize and appreciate Giuseppe's unusual gifts.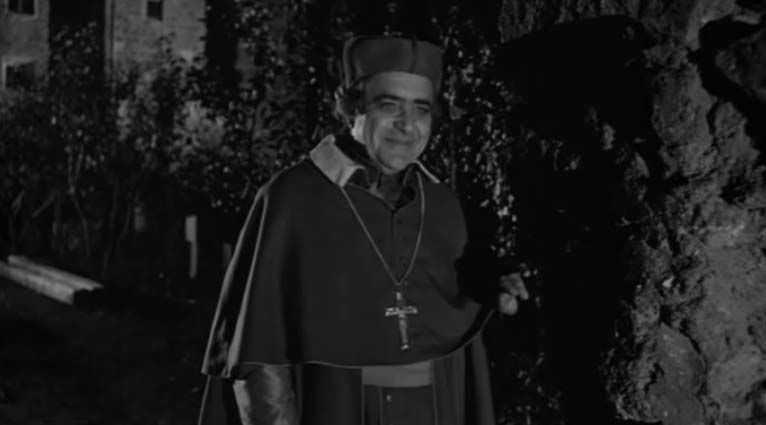 Harold Goldblatt is Giuseppe's long suffering uncle, and Giuseppe's sharp-tongued but still affectionate mother is played by Lea Padovani.
Two other characters worthy of mention are Carlo Croccolo as the hunchbacked Gobbo,
and Giulio Bosetti as Brother Orlando.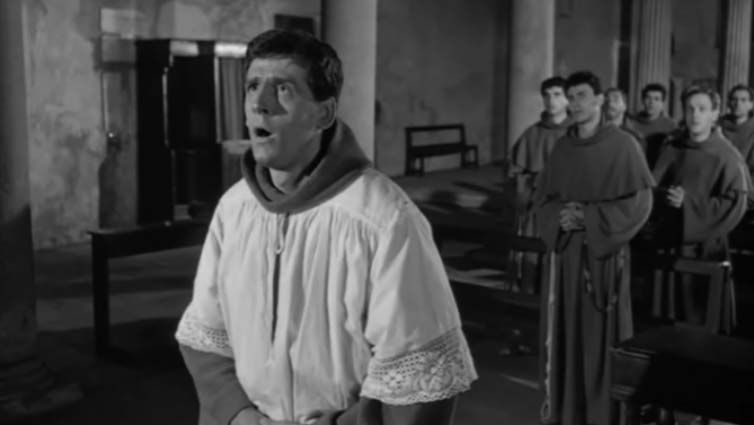 After Maximilian Schell, Ricardo Montalban has the second most important role, playing Father Raspi, Giuseppe's most consistent antagonist. He's not a bad man (perhaps an exemplary one in many respects) but Giuseppe seems to offend his very being.
Montalban's is a subtle performance, but I think it suggests much ... that the faith of a child, charity, and unselfish love might mean a great more to the Kingdom of Heaven than personal dignity, strict devotions, and years of theological study is a bitter realization for Raspi to accept. How can he bear the thought that a lowly half-wit could be nearer to the Kingdom of Heaven than he can ever be?
One doesn't have to be a Catholic to enjoy this film. Actually, a fervent Traditionalist might be offended by the scene where the Bishop, after listening to an interminably long theological discourse on the Trinity, wonders out to the stable and reveals to Giuseppe that he has always been troubled by the mystery of the Trinity. As a peasant, he could accept such things simply on faith, but now as a Bishop he feels troubled by the whole question; St. Thomas doesn't help. Giuseppe takes up a blanket and answers simply: "look, one blanket, one God", then folding it three times, explains "three folds in one blanket, like the Trinity." Not quite Aquinas, but very much in the spirit of certain parables taught by a carpenter's son.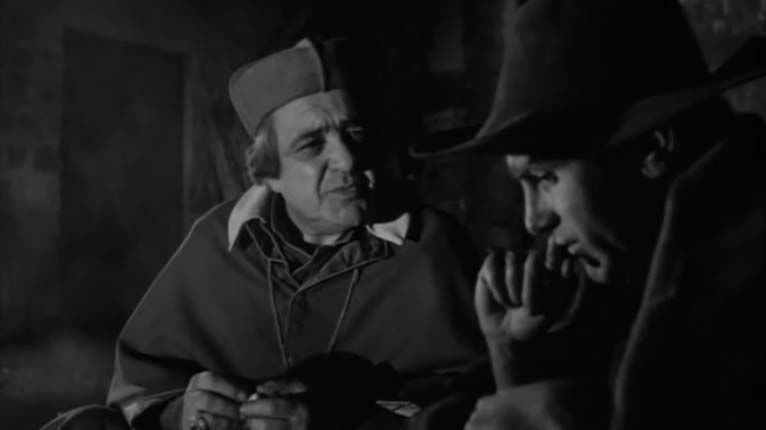 I can easily understand how this movie was not a box office success; it must have been a terribly hard "sell". But even more readily can I appreciate those rare qualities that made it one of Mr. Dmytryk's favorites ... it has become one of mine as well.