Her Sister's Secret
(1945), which aired last night as a TCM Premiere on a night of Edgar Ulmer features, was most absorbing for several reasons. Thanks so much to Theresa for alerting me that it was on last night.
*MILD SPOILER ALERT*
Here were some aspects of the movie that seemed to work best for me:
The matter-of-fact yet caring way that the sisters' approached the out of wedlock baby's birth. The solution: for the married sister, who cannot have a child, to adopt her sister's baby, which was conceived after a romantic encounter with a decent but now absent soldier after they met at the Mardi Gras in New Orleans. The contrast with a big budget Warner Bros. film such as
The Big Lie
(1941) with a very similar story line was interesting. Less drama, no "we were married" stuff, no one fighting over a guy who may not be all that special, and more real pain on the part of the mother, less b**chiness on both parts. No villains--while characters had to live with their choices, no one was condemned for the way that things happened, unless you want to get upset with
Fritz Feld
and
Felix Bressart
or decide that one night's life-affirming indiscretion should determine a lifetime of punishment. As the soldier (
Philip Reed
) comments incisively and a little wistfully the morning after, Toni (
Nancy Coleman
) "lost her head, but not her heart" that night.
I really liked the way that
Regis Toomey
got to be a decent, fairly perceptive guy, instead of the tired cop or clueless dope he usually was assigned to play (see Alibi, Under 18, Other Men's Women, Shopworn). It was wonderful to see two veterans of Warners showing their qualities as actresses. How difficult it must have been to get a good part there when
Margaret Lindsay
and
Nancy Coleman
each had such powerhouses as Bette Davis, Barbara Stanwyck, Olivia de Havilland, Ida Lupino, Ann Sheridan, and Joan Crawford snagging the choice parts at the studio. I have read interviews with other one-time Warner
inmates
contractees
Josephine Hutchinson
and
Geraldine Fitzgerald
, who were both friends with Davis. Each actress had been encouraged by Bette to fight for parts and their rights as artists. Unlike Davis, neither woman was entirely comfortable with a contentious atmosphere--but they understood that life was a trade-off and shaped their careers and lives differently as a result.
In this movie, both characters are distinctly drawn with compassion.
Margaret Lindsay
, who appears to be poised and even a little brittle in a sophisticated way reveals her vulnerability after her sister tells of her pregnancy. There is a lovely moment when the two sisters, who have a tough time speaking to one another directly about things that are important to them find a way to communicate. Lindsay goes in the bathroom to brush her teeth as her sister spills her news to her from around the corner. After expressing her profound sympathy and coaxing her fretful sister into bed in a room adjacent to her own bedroom,
Lindsay
drifts into her own room, carefully turning out the light and climbing into her own lonely bed (she has just seen her husband off to the Navy). She continues to listen as her sister continues to speak about her anxieties from her own bed, lying in the dark, and smoking a cigarette, seemingly calm, but troubled, mixed feelings, since she has longed for a child herself. Clearly,
Nancy Coleman
's character of Toni thinks that her sister (
Margaret Lindsay
) has life by the tail, while she is stumbling along, looking for fulfillment. She has never understood that even her married sister has her moments of self-doubt, a quality that
Lindsay
conveys and builds on throughout the movie. Coleman's vulnerability and developing desire for her child as the film goes on fit the delicate-looking actress perfectly as she expressed her sorrow and her desire to avoid hurting her sister.
Without going too far into analysis here, I thought that
Coleman
's character, impulsive and in some ways rather childish but caring and honest, is like the "anima" to her sister's thoughtful but reserved and more controlled "animus," In Jungian terms, they might be meant to reflect two sides of human nature and femininity itself, something that numerous films sought to deal with in the '40s as the social pressures of war affected traditional roles more and more.
I hope that
Lindsay
and
Coleman
felt some satisfaction in being able to play in a quality story, bringing some of their own nuances to each part.
The cinematography from
Franz Planer
("Frank" in the credits on this movie) was beautiful. Thanks to
Edgar Ulmer
,
Planer
, and the editor
Jack Ogilvie
, the film may have been made on a budget, but it never looked it at all (except for the fact that the audio track really could use some restoring, though that is probably not possible technically). The blending of the stock footage and montages of the Mardi Gras mixed with the large crowd in the restaurant looked enchanting, not cheesy. In the early part of the movie when
Coleman
and
Philip Reed
abandon their Mardi Gras dates and escape on a carriage ride, the film conveys the powerful rush of an exhilarating romantic impulse visually (with a soaring musical score that frankly, got a little overripe at times). However, the sequence when the pair leave the city streets and look up at the stars twinkling above the canopy of trees was particularly well done.The mobility of the camera and the architecturally interesting sets (particularly the NY penthouse where
Lindsay
&
Toomey
lived) added to the feeling of enclosure and feeling cut off from the natural world. There were even moments when I thought I saw railings and sleek built-in fixtures in this apartment that reminded me chillingly of The Black Cat--a movie so infused with Ulmer the former art director's touches.
One thing that was particularly entertaining for me about this movie:
The costumes!
Clearly the credited designer,
Donn
(no last name given), whose only film credit is for this movie, was apparently hellbent on spending every penny of the clothing budget on costumes that would knock the audience for a loop. First, he is responsible for some fascinating hats...Mad Hats, Russian Hats, Hats that look like upside down salad bowls...these gals have a closetful of toppers. And don't get me started on the shoulder pads in the outfits they are wearing. Poor Regis Toomey almost had his eye taken out by one flying buttress on Margaret Lindsay's frock in one scene.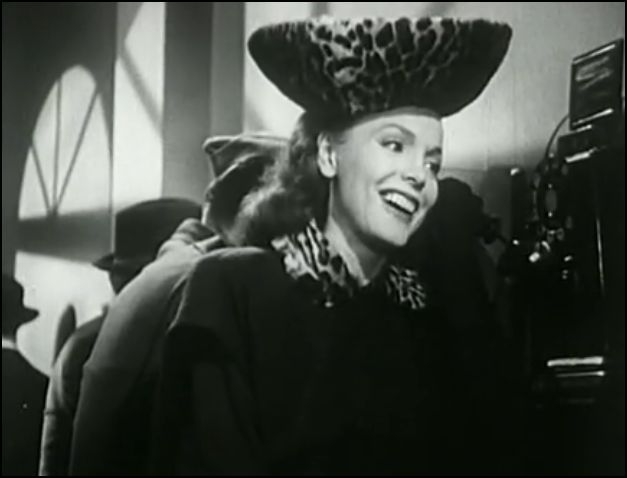 I particularly like the lighting in the last image. It looks as though there is a porthole to heaven in the store where Nancy Coleman is shopping in that store where she starts to feel that everyone is staring at her.
When the two sisters go to Arizona to wait for the birth of Toni's baby, they start wearing Western-wear, of sorts...Nancy Coleman even wears one blouse that marks her as....branded!
I would love to have a bathrobe as nice as the angular striped structure that Margaret is encased in here, but who wears shoulder pads in their sleep and lounge wear? Apparently they did...though Nancy's has flowing sleeves that soften her look more.
My favorite outfit for Lindsay...an at-home number with the glittering chatelaine at her hip...perhaps to remind the audience that she thinks she is in control of her domain?
One other good thing about this movie was that the little boy who played the child in question at the age of three,
Winston Severn
, actually behaved like a kid. In one scene when
Margaret Lindsay
frantically dials hotel numbers on the phone while sitting with him on the bed, he spouts off with "I want to dial!" Pretty cute, even though the camera tightens in on Lindsay's face, perhpas to avoid showing him grabbing the phone?
He also looked genuinely worried when the stranger who was his biological mother attempted to take him away in the park: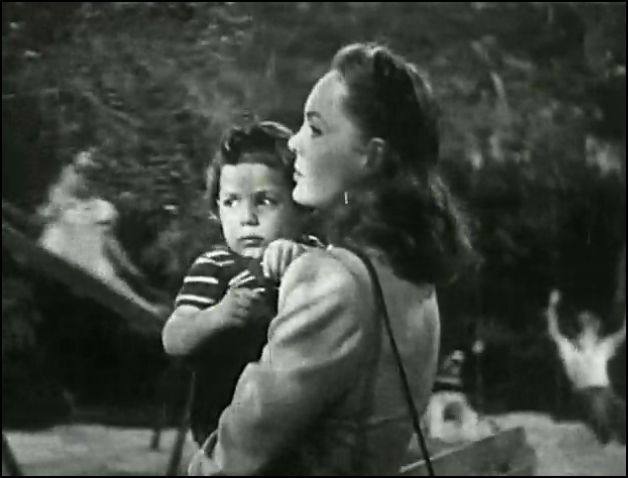 Btw, when I was checking the credits on this movie on IMDb, I discovered that in 2006, the individual who had played the little boy actually
posted a query
about the possibility of this film coming out on DVD in their user review section.
I hope Mr. Severn got a copy of the movie by now.
If anyone missed this film, it is available on DVD for under $14 and can be rented or purchased as a download from Amazon for less than $10. If you are an Amazon Prime customer, you can see the film streaming on their website for free. Maybe others know if it is available via Netflix?