Kim Morgan interviewed Ann Rutherford at the 2009 Palm Springs Film Noir Festival and Ann discussed Errol Flynn's "naughty monkey" and Louis B. Mayer's well-known notoriety for "getting misty-eyed if you asked him what time it was," and Mayer called the part that his son-in-law, David O. Selznick, wanted Ann to play a "nothing" part in a movie.
Good friends Ann Rutherford and Anne Jeffreys pose on the Red Carpet at the TCM Film Festival 2011...
But Ann had a marvelous way of turning a phrase, and she stated that "the 'nothing' part has turned her golden years to platinum." I was hoping that you might elaborate a little about her golden years and what you feel might have made them so special for her.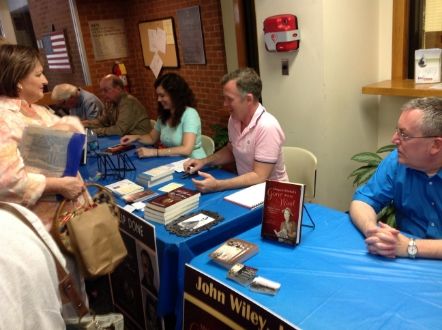 Busy authors David O'Connell, Wilbur Kurtz III, Kendra Bean, Phillip Done, and John Wiley at the author's book signing events in Marietta in June for the 75th Anniversary of
Gone With The Wind
events sponsored by the
Marietta Gone With The Wind Museum
organized by Museum Director Connie Sutherland.