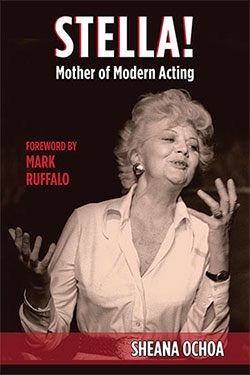 Sheana Ochoa, author of
STELLA: Mother of Modern Acting
has arrived at The Silver Screen Oasis to visit us this weekend.
Ochoa's website entitled "Stella Adler, A Life In Art," describes Ochoa's journey compiling fascinating episodes from the life of Adler, an actress, film producer, director, and teacher who inspired writers like Arthur Miller, and actors like Marlon Brando, Benicio del Toro, Mark Ruffalo, Shelley Winters, Salma Hayek, and Robert De Niro.
Author Sheayna Ochoa and husband Jordan Elgrably at the Golden Globe Awards in 2013
With extensive access to Adler's personal archives, interviews with former students, friends, and family members, biographer Ochoa delves into Adler's childhood, her experience with the Yiddish theater, and Adler's experiences with Elia Kazan, Clifford Odets, and formidable and controlling Lee Strasberg.
Adler is the only American acting instructor to have actually studied with Constantin Stanislavski, whose theories created the foundation of modern Method acting. Her experiences with blacklisting in the McCarthy era, her formation of the Stella Adler Studio of Acting in New York, and her extrapollation of Stanislavski's approach to teaching acting as an art led her to help students to "inhabit their roles through empathy, imagination, and a deep sociologial understanding of a character's motivation."
Ochoa's bubbly, energetic personality belies her own personal struggle with Fibromyalgia. Acccording to Ochoa's website article, she states that fibromyalgia is "a malapropism for a still controversial illness that has no known cause or cure, but can be as disabling as Lupus and MS. Since I've found ways of managing it in my life, my next book will focus on helping others with FM. I guess you could say, I'm a fan of the underdog." Like Stella Adler, Ochoa fights for and sympathizes with those who struggle with daily existence.
(Photo from Inspiring Quotes By Women.com)
Unbeknownst to most fans of Adler was her dedication to help refugees, as she "covertly secured passage for 700 displaced Jews during and after World War II. The FBI and the Department of Army kept records of her every move during the 1940s and 1950s, according to an article in Lilith magazine." Ochoa states that Adler's FBI file added to the explanation of Adler's complexity of character and dedication to help those she considered worthy of her attention as an instructor or savior, as well as aiding her voluminous research.
Adler's decade-long association with colleague and adversary Lee Strasberg and her singular approach to an unorthodox lifestyle inhabit the first biography of Stella Adler, the "mother of modern acting." Strasberg was at times "aloof" towards Adler, as "they had respect for each other, but there was a rift," states Ochoa.
In Hollywood, Adler starred in the movies
Love on Toast
in 1937,
Shadow of the Thin Man
in 1941, and
My Girl Tisa
in 1948, and was an associate producer at MGM.
Ochoa's personal vision of who Stella Adler became illuminates how Adler lifted the art of acting so that the actor becomes "co-creator as the artist uses his or her imagination." Adler's "template for the theater" in some ways was forged by her flamboyance, but also her dedication to the art of acting as a profession. Some of her students include Marlon Brando, Robert De Niro, Warren Beatty, Elaine Stritch, Mario Van Peebles, Harvey Keitel, and Candice Bergen.
Actor Mark Ruffalo, nominated for a Best Performance By An Actor in a Supporting Role in 2015 for
Foxcatcher
, wrote the heartfelt introduction to Ochoa's book.
Please join us this weekend to visit with Sheana Ochoa!
Links:
Stella! Mother of Modern Acting
:
http://www.amazon.com/Stella-Mother-Mod ... eana+ochoa
Sheana Ochoa's author website:
http://sheanaochoa.com
Sheana Ochoa's website,
Stella Adler, A LIfe in Art
:
https://stellaadleralifeinart.wordpress.com
TCM Morlocks Interview:
http://moviemorlocks.com/2014/05/21/ste ... rn-acting/
Tara Hanks' review of
Stella! Mother of Modern Acting
:
http://forbookssake.net/2014/06/02/stel ... cation=ufi
Stella Adler Studio of Acting:
http://www.stellaadler.com/about/history/
PBS American Masters Series Synopsis, 2000:
http://www.pbs.org/wnet/americanmasters ... adler/526/
Original review of Clifford Odets'
Awake and Sing
in 1935, featuring Stella Adler:
http://jwa.org/thisweek/feb/19/1935/thi ... e-and-sing