Yesterday Arte TV showed this delightful Feyder picture.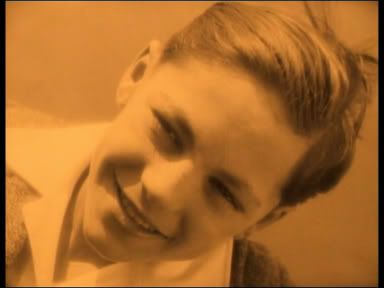 Gribiche
(1926, Jacques Feyder) with Jean Forest, Françoise Rosay, Cécile Guyon and Rolla Norman
Little Gribiche (J. Forest) meets a rich American widow, Mrs Maranet, (F. Rosay) in a Paris department store. He gives her back her bag she dropped by accident. Mrs Maranet decides to adopt him to give him a 'proper education'. The child leaves his mother (C. Guyon) to live with Mrs Maranet. His life becomes a hectic schedule of bath, exercise and tutors...
In 1925, Jacques Feyder shot this delightful film after a novel discovered by his wife Françoise Rosay. While she was a talented opera singer and actress, she had so far only appeared as an extra in various Feyder pictures (such as
Crainquebille
from 1922). Operators thought she was not photogenic. So she had the idea of lighting her hair color with some slivery glitter. It worked. For the first time, she got a starring part and was able to show her considerable talent under her husband's direction, a partnership to would endure until Feyder's death in 1948. The little boy in the title role is Jean Forest. He was a street urchin discovered by Feyder in Montmartre (then a poor district of Paris). He had already played in
Crainquebille
(1922) and in
Visages d'enfants
(Faces of Children, 1923) showing a great natural talent for acting. This is Feyder's first film for the Albatros company. It will be followed by two more (
Carmen
and
Les Nouveaux Messieurs
). It was also his first meeting with a genious of art direction, Lazare Meerson. He became one of his most faithful collaborators. He is the one who created a complete Flemish town in Epinay studios for
La Kermesse Héroïque
(Carnival in Flanders, 1935) with even a canal. His talent is already obvious in the way he delineates cleverly the social differences with the furnishing of the rooms. Gribiche lives with his mother in a lower-middle-class area of Paris and their living-room contains the typical 'neo-Renaissance' sideboard fashionnable in the 20s. In sharp contrast, Mrs Maranet lives in great luxury in a Art Deco house with some refined furniture, sort of 'neo-classical'. The boy was not living in poverty but his widowed mother had to work to make both ends neet. Mrs Maranet takes the boy with her and gives him to servants and tutors. He has a military schedule of exercises and courses. The child is expected to behave properly, wear stiff clothes and kiss ladies' hands. Mrs Maranet is obsessed with hygiene and cleanliness. The bathroom for the boy is a perfect showcase of her mania: huge room with giant bath plus a very modern-looking shower. Quickly the child cannot stand this life any more. He leaves during the night of the 14th of July to enjoy the celebrations in the street. Having some ice-cream between two biscuits is far more fun that those terribly stiff dinners with dozens of forks an knives! Mrs Maranet likes to boast about her charity and she tells her friends how she saved the child from abject poverty. We get a caricature of the worst kind of melodrama as she tells the story. According to her, the poor child and mother were living in a hovel. The film uses cleverly some Paris locations (Les Trois Quartiers department store, Bois de Boulogne and the Grenelle district with the overground metro). Feyder will use Paris even better in the following
Les Nouveaux Messieurs
, a foretaste of future Carné pictures (he was Feyder's assistant). The class-distinction is exemplified by the way you wear a napkin. With Mrs Maranet, it's on your lap; with his mother, it's tucked in his collar. The final scene resolves the conundrum: you have to wear your napkin tucked in your collar to avoid staining your clothes while eating snails.
The newly restored print is gorgeous. It's tinted throughout. The image is sharp and well contrasted. I saw the previous restoration at a screening in 2008. It was certainly not as good, quality-wise. But, I noticed that the new restoration, performed on a different negative, is lacking one scene. When Gribiche runs away during the 14th July, he meets a tramp under the overground metro. They sit together on a bench and drink some wine. Inexplicably, the scene is missing from this new print. I hope when the DVD is produced by Flicker Alley, it will be restored.
As for the score, well, it was really annoying. The pianist and percussionist seem to ignore the mood of the scenes and the characters. The pianist played repetitive minimalistic motives and the percussionist was irritating. I ended up switching off the sound. I hope that on the DVD we'll have some better music.