Moderators: Sue Sue Applegate, movieman1957, moira finnie, Lzcutter
Still more Big news and another brilliant restoration! Hope these links work.
http://www.guardian.co.uk/film/filmblog ... egri-mania
http://www.guardian.co.uk/film/filmblog ... egri-mania
http://www.maniafilm.pl
http://www.youtube.com/watch?feature=player_
Administrator
Posts: 8176
Joined: April 9th, 2007, 6:34 pm
Location: Earth
Contact:
This is great to see and I'm very grateful for your posting it (the only link I couldn't get to work was the youtube one). I love the warmth of the restoration's film and the score on the trailer is lovely (perhaps that is a sample of Jerzy Maksymiuk's music for the film? I hope Larry sees this post!
Posts: 1395
Joined: May 6th, 2007, 10:15 pm
Location: Calgary, Alberta, Canada
Hi Moira,

Pola would have been thrilled to have another of her European films in the limelight. She considered her pre-Hollywood career much superior to Paramounts 'Slink and Mink' movie star era.

I know she came to the attention of Adolph Zukor with "Passion" ("Madame DuBarry") and "Gypsy Blood" ("Carmen") but I seem to recall that she mentioned "Mania" also played a part in her being noticed too.... The first two are rather more frenetic performances, but Mania is much more subtle and calm....

Once again I challenge that rumour that she walked a tiger down Hollywood Boulevard. She told me, "I have never had a dangerous animal out in public like that. It would cause panic. Do they think I am so stupid?!!".....
She did work with a panther in "Bella Donna" and a chetah in "The Moonspinners" but she really didn't like cats much.

Larry
Administrator
Posts: 8176
Joined: April 9th, 2007, 6:34 pm
Location: Earth
Contact: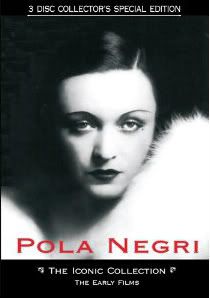 Last month the Emphasis Entertainment Group released a 3 disc set featuring four of Pola Negri's earliest films, described here in this release found on the
Emphasis Entertainment
site. Below is a very entertaining trailer for the DVD as well:
Before Garbo or Dietrich, there was

Pola Negri

. She was the first exotic European actress imported to Hollywood during the Silent Film Era, with much fanfare and hoopla. A mesmerizing combination of the animale and sophisticate, Pola became the highest paid actor in the movie business and her glamorous lifestyle, was discussed almost daily in gossip columns worldwide. She was affianced to Charlie Chaplin, all but engaged to Rudolph Valentino until his untimely death, and was the wife to a Count then to Prince Mdvani. Yet today, oddly, she is still little known.

Born in Poland to impoverished minor aristocracy, she was classically trained in song, dance, theater and cinema. Pola originated the cinematic femme fatale. She was discovered by Max Reinhart became a protégée of Ernst Lubitsch and a favorite of Adolf Zucker. Pola made more than 60 films in Europe and America, both in drama and comedy. Her fortunes reversed many times throughout her prolific career, and she ended her days as a supporter of the arts and companion to an eccentric millionaires in San Antonio, Texas.

For the first time on DVD, four of Pola Negri's first films from the early days of her career in Europe, are now available in the three disc DVD Collector's Box Set

Pola Negri: The Iconic Collection - The Early Films

. This set has been a labor of love for independent film production company Bright Shining City Productions and director Mariusz Kotwoski who has been recognized in Poland and the USA for his continued dedication to this Silent Film Era icon.

The collection features two never before released on DVD films:

The Polish Dancer

(1917) which boasts the title of "first feature film ever made in Poland"...

The Yellow Ticket

(1918) the first film to expose Anti-Semitism in Imperial Russia.

Complementing these two historical gems are:

Eyes of The Mummy Ma

(1918) with co-star Emil Jannings (Radu) who won the first Oscar for best actor in 1929...

Sappho

(1921) the story of a love triangle that ends in tragedy. All films have been digitally re-mastered, color corrected and edited with English title cards and set to a beautiful original piano score performed by composer Rick Dejonge.

Bonus Features:

Clips from the award-winning documentary

Pola Negri: Life Is A Dream In Cinema

Musical tango vignette choreographed to Pola Negri's recording of Ich Hab An Dich Gedacht.

Pola Negri slide show & biography

Booklet with film descriptions, photos and credits created by Ia Enstera.
[youtube]
[/youtube]
Clips from a documentary
Pola Negri: Hollywood Legend
:
[youtube]
[/youtube]
[youtube]
[/youtube]
moirafinnie,
Here is more breaking news that ties in with this thread.
Herbert Brenon's
THE SPANISH DANCER
Starring Pola Negri and Antonio Moreno will be seen close to it's entirety for the first time since it's original release back in 1923. Elif of The Netherlands Eye Institute broke the story of the first ever live screening of the new 35 millimeter restoration coming up in Amsterdam next month, earlier this evening. An extensive project that took 2 years to complete. Here is the announcement and a link with additional information.
"The word is out now; the new restoration of THE SPANISH DANCER (1923) with Pola Negri by EYE Film Institute Netherlands will premiere at the new building of EYE in Amsterdam, during the opening events, on April 6th (and april 8th). The new version runs 105 mins, reproducing the original english title cards and the original tints, based on the Paramount continuity script..". Elif
http://www.eyefilm.nl/en/the-spanish-da ... _id=432486
Posts: 1395
Joined: May 6th, 2007, 10:15 pm
Location: Calgary, Alberta, Canada
Hi Moira,

"Life is a Dream in Cinema" is the documentary that I travelled to Austin to film about 6 years ago. I've never seen it, since I was excised out after a very bitchy Mr. Kotowski thought my suggestions about shooting a bouquet her favourite red and yellow flowers (that I provided) to start and end the film were deemed interferance....
Needless to say, my producing, directing and starring careers all came to a screeching halt!!!

Gagman:
I love the pictures of Pola in "Spanish Dancer"... She visited LA in the early 80's when Paramount had an exhibit of old costumes from the 20's; and one of her dresses was on display. There's a picture of her standing in front of the dress....

She was a good friend of Antonio Moreno and Adolphe Menjou for years. She often spoke highly of Moreno, as a true gentleman...

Larry
Posts: 11946
Joined: April 20th, 2009, 9:56 am
Great news, Jeff! Let's hope this stream of lost film "finds" continues.