This is Tippy, our toy(?) poodle. He is a big toy, or a runty miniature, we aren't sure. He looks like this most of the time now, since he is 17 years old, and sleep is his number one pastime. We adopted him when he was 12.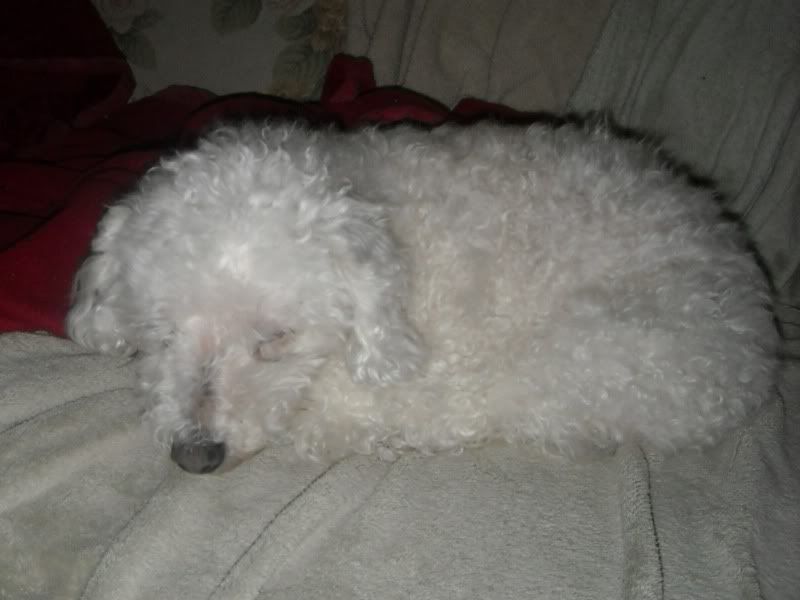 I did not name him Tippy, and was hoping for a name change to something less frou frou, but my daughter liked it. I feel bad for him, being a small poodle, and suffering the indignity of a wimpy name on top of being looked at as some pathetic purse pet. Try finding a small dog coat that ISN'T pink sometime. It's tough.
When we got him he was terribly skittish and fearful of any male coming into the house, including my husband. This is understandable, since his previous owner was killed by her angry husband, and Tippy was placed in the dog pound by police for several weeks. My groomer called and begged me to take him. I said I would if no one else did - since my husband had just made it very clear he didn't want another dog after our Collie died. One couple took Tippy, but then gave him back the next day. So we took him, and it's been quite the experience. I have never regretted taking him, poor fellow.
Tippy was a complete wreck, even after we got him and tried to make him comfortable. He whined for hours, was afraid of dogs and humans, and was frightened of the mailman especially. He was scared all the time. I suspect that his home had been abusive, but it's hard to tell - Tippy never told us. He had a back injury of some kind. He has food allergies too. We have to feed him ground turkey and brown rice. He did not know how to go outside to go to the bathroom, or how to play, and he would only eat at 5 o'clock at night, which was not working because he would become so hungry that he would throw up every morning. It took a year to get him to learn it was OK to eat breakfast, and to get him housebroken. I trained him to cross the street to go to the bathroom, going a little farther every day. These two things were actually the hardest part of his training. He would stop at different gates, on our walks, I think he was trying to find his previous owner. It broke my heart.
Now, after four or five years, you would not even know it was the same dog - he does not whine anymore, is accustomed to strangers visiting, and he leads a relaxed, quiet life. He still hates the mailman, but it is under control. He has occasional bouts of Alzheimers, I think, when he just stands and stares into a bookcase or a wall.
This year, we trained him to meet new dogs (pretty good for a 17 year old - you CAN teach an old dog new tricks) by using chicken or cheese as a treat when he is around them. We take him for walks at a local nature area, just to give him something new and exciting every now and then. He is sedate by nature, but likes to have his routine shaken up once in a while....He even has a girlfriend, a friendly black lab named Ella whom he treats badly, ignoring her whenever she's around. He is always quite pleased with himself after she leaves, though, and will occasionally drag me down to her house in order to ignore her at close proximity.