This year's TCM Film Festival began for me on Wednesday morning. After a six hour drive (just getting to the freeway in SF at rush hour took a major chunk of time and it's only a few miles!) down the spine of the state (yay, I-5), I arrived home in my beloved City of Angels by early afternoon. I stopped at home to unpack, check the pookies (awake and making big messes for MrC to clean up) and gather my wits.
After a nice break, it was time to jump in the car and head to Mecca, in this case Hollywood. On the way, I stopped off and picked up KyleinHollywood and we headed to the Roosevelt.
Iron Man 3
was having its world premiere that evening at the El Capitan so traffic was a bit of a challenge. I dropped Kyle off at the Roosevelt and went to the park the car. Traffic being a mess, it was good I knew the backroads and it didn't take long to get back to the Hollywood and Highland parking complex.
It was too late to pick up our badges so we headed to the lobby to see what was happening. We had the opportunity that evening to attend a private party at Club TCM (for Citicard holders) where Robert O was going to interview Mitzi Gaynor.
But, we had some hours to kill before that. Hanging in the lobby, we got caught up (though we spend a great deal of time talking via email, this was the first time our paths had crossed in real time). While watching the early arrivals at the FF, we met identical twins, the Schneider sisters. They were from Illinois and this was their first film festival. They wanted advice from us old hands and we gave them some pointers:
1) Take time to check out the tapings in the lobby as Robert O and Ben M interviews give you a chance to see and hear many of the guest stars that are scheduled for screenings.
2) Wear comfortable shoes.
3) Get in line at least an hour to 45 minutes early, especially for popular titles.
4) Stay hydrated and don't forget to eat.
5) Don't be afraid to talk to people while standing in line.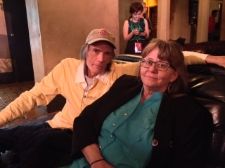 Photo courtesy of Suex2
Soon, we saw Suex2 and a little later, Cinemaven, popped by to say hi. She had just arrived from the airport. Everyone was making plans for that evening. Some were going to Musso and Franks, others were going to Miceli's, some were going to the Arclight for the AFI screenings. We told everyone to give themselves some extra time navigating the Blvd because of the
Iron Man
premiere. As the afternoon gave way to the evening, well dressed twenty and thirty somethings began filling the lobby as they were waiting for the premiere to start.
We finally decided that some food for us would be a good idea. We ended up at the coffee shop, 25 Degrees, in the hotel. We were seated near the Schneider twins and other Festival goers. At the counter was actor Neil McDonough (Band of Brothers, Boomtown and Justified, season 3).
Before long, it was time for the party at Club TCM. On our way in, we ran into Paula (Countessdelave) and Cheryl. We grabbed a table and sat down to get caught up.
It was time for Genevieve MacGillicuddy, Festival Director, to take the stage to welcome all of us (and thank Citi for sponsoring the event) and introduce Robert O. Gen hoped we would all have a great time at the Festival this year but to kick it all off, she brought Robert O to the stage. The Club went wild with enthusiastic applause. Robert O, about to turn 81, looked great, rested and ready to begin what for him and the staffers would be four days of non-stop activity.
He welcomed us and brought Mitzi Gaynor to the stage. Her mega-watt smile could have lit up the Hollywood sign for days. She sat down next to Robert O and then held us in the palm of her hand for the next hour as she regaled us with stories.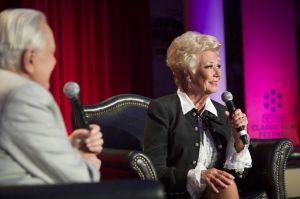 Photo courtesy of artsmeme.com
She flirted with Robert (I'm rich and I'm a widow), told us the story of how Rossano Brazzi thought he was going to do his own singing in
South Pacific
because he sung to Katherine Hepburn in
Summertime
. (Mitzi does a wicked impression of Brazzi singing, by the way). Finally, before filming began, Brazzi began to understand how difficult the singing would be and decided his style was more suited for "intimate singing" like he had done in
Summertime
.
Mitzi spoke at length about her late husband, Jack Bean, and how supportive he was.
She also talked about vying with Mary Martin for the role in
South Pacific
, though Martin was in her early 40s by then and too old for the role. Martin really wanted the role. In fact, Mitzi and Jack were invited, along with Mary Martin and her husband, to Oscar Hammerstein's house for dinner. The Martins arrived first. When Mitzi and Jack arrived with another couple, Martin's husband let the other couple in and then shut the door in Mitzi and Jack's face.
Mitzi got the role despite Martin's husband's bad manners.
It was over all too soon. We could have listened to Mitzi for hours, I suspect. But, she had a big day coming up.
South Pacific
was the poolside screening the next evening and Mitzi and France Nuyen were scheduled to talk before the film.
After the interview, Gen came over to say hello and we got the opportunity to talk to her for a few minutes. She said there was a special event scheduled for the
South Pacific
screening that we wouldn't want to miss.
It was close to 9:00 and time to call it an evening. I dropped Kyle off at his abode and headed home to tell MrCutter about Mitzi (he's a big fan of
South Pacific
).
Tomorrow would start early enough!